Your sure to enjoy my instant pot chicken risotto. Made using leftover chicken and as always super easy to make with no stirring.
Risotto has to be one of the best meals to make in the instant pot. It saves so much time and the results are consistently perfect. Traditional stovetop risotto requires near-constant stirring and this means you just can't get on with anything else. With the instant pot, once you have added all the ingredients and put the lid on, you can get on with whatever else you want to do.
Risotto is practically a weekly go-to recipe for our family.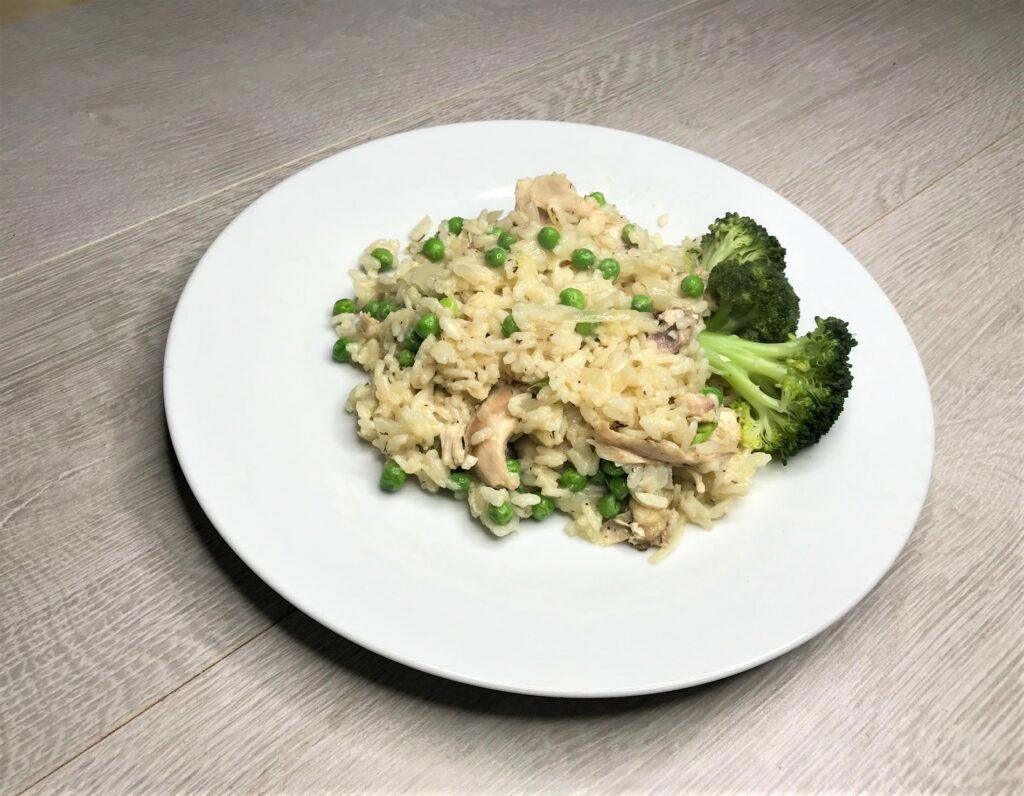 What is risotto?
Risotto is a northern Italian rice dish and is traditionally made on the stove with rice and broth until a creamy consistency is achieved. Usual addition would be meat, fish and vegetables.
Risotto is served as a first course in Italy, however I always use it as a main course
How to make instant pot chicken risotto?
This is where the instant pot makes it so much easier than the stovetop. Simply set the instant pot to saute and add the oil and 1 tbsp of the butter. When it's hot add the onion and fry until softened (this should take around 3 minutes). When the onion is cooked add the garlic and thyme. Now add the chicken and season to taste. Add the rice and white wine. Cook for around 1 minute until the alcohol evaporates. If you don't want to use wine, just add extra stock to make up the liquid volume.
Add the stock and deglaze the pot if necessary. Put the lid on and set the pot on high pressure for 3 minutes. When the time is up, leave under pressure for another 4 minutes before doing a quick release. When the pin drops, remove the lid. Stir in the peas and grated parmesan. Allow to warm through (around 2 minutes). Serve and enjoy.
What type of rice is used for instant pot risotto?
Traditionally arborio rice would be used and as this is generally available, that is what I use. Carnaroli or any other short-grain rice could also be used. Short grain rice is higher in starch and has the ability to absorb more liquid. I have used basmati rice when no other was available and the result was still surprisingly good.
Whichever rice you use, there is no need to rinse before use as the starch will help to create the creamy finish of the finished dish.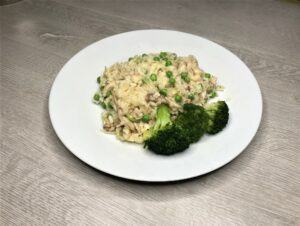 What are the ingredients of chicken risotto?
My chicken risotto has the following ingredients:
Olive oil
Butter
Onion
Garlic
Thyme
Chicken (cooked)
Salt and pepper
Arborio rice
White wine
Chicken stock (vegetable stock would also be good)
Peas (frozen)
Parmesan
What to serve with instant pot chicken risotto
I served my risotto simply with a side serving of broccoli. Any other green leafy vegetable or green beans would make a good side serving.
Is instant pot risotto healthy?
My risotto is packed full of healthy ingredients and contains no added sugars. Risotto is a great healthy option and will make a great addition to any balanced diet.
Is it possible to scale the recipe up or down?
Yes, it would be fine to half the recipe in any of the instant pots. You could double the recipe with any of the pots 6l (6qt) and above. In either case all timings would remain the same.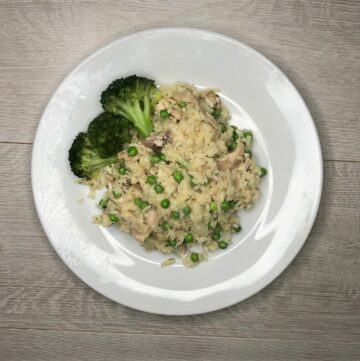 Instant pot chicken risotto
Simple and delicious no-stir risotto. Made using left over chicken.
Print
Pin
Rate
Ingredients
2

tbsb

Olive oil

2

tbsp

Butter

Salted or unsalted to taste. I used salted.

1

Large

Onion

Diced

5

Cloves

Garlic

Minced

1

tsp

Thyme

Dried

454

g

Chicken (cooked)

Salt and pepper to taste

500

g

Arborio rice

Long grain rice would be ok.

50

ml

White wine

Optional

800

ml

Chicken stock

Vegetable stock would be fine.

200

g

Peas

Frozen

75

g

Parmesan

Grated
Instructions
Set the instant pot to saute and add the olive oil and 1 tablespoon of the butter. When melted, add the onion and soften for around 3 minutes. Add the garlic and thyme. Cook for 1 more minute.

Add the chicken and cook for a further 2 minutes (stirring occasionally). Season to taste with the salt and pepper.

Add the rice and white wine, cook for approximately 1 more minute whilst stirring continuously.

Once the rice has absorbed the liquid, add the chicken stock, deglaze the pot if necessary and set the instant pot to 3 minutes on high pressure. Allow to rest for 4 minutes and then perform a quick release.

Stir in the peas and add the remaining tablespoon of butter followed by the grated parmesan. Allow to warm through for approximately 2 minutes.

Serve straight away and enjoy.
Video
Nutrition
Calories:
562
kcal
|
Carbohydrates:
80
g
|
Protein:
22
g
|
Fat:
15
g
|
Saturated Fat:
7
g
|
Cholesterol:
50
mg
|
Sodium:
531
mg
|
Potassium:
417
mg
|
Fiber:
5
g
|
Sugar:
5
g
|
Vitamin A:
555
IU
|
Vitamin C:
17
mg
|
Calcium:
180
mg
|
Iron:
5
mg
There you have it. The simplest and in my opinion restaurant-quality risotto. All done with minimal effort and no constant stirring.
if you want to use raw chicken, that will also work really well. Use the same method but substitute diced chicken breast or thigh. Cook the chicken until roughly browned before continuing.
My family also enjoy variations of this meal. A couple of examples would be either with chorizo added after the onions or with prawns or spinach added at the same time as the peas.
I made this using the 8l (8qt) instant pot and I have also made it successfully in the 6l (6qt) pot. The recipe should be OK in the 3l (3qt), however I have not tried it.
This recipe made 6 portions and unfortunately for me, there were no leftovers! If there were, you could safely refrigerate for up to 4 days and it will freeze well for around 6 months.
For some interesting facts and history of risotto, please click on this link.
If you have enjoyed my recipe for instant pot chicken risotto, please see below for more great Italian and chicken recipes:
If you have any comments, questions or suggestions, please leave them in the box below and I would be delighted to help.