If you are lucky enough to have an instant pot you should find my instant pot cleaning instructions simple to follow and really useful.
The instant pot is by far my favourite kitchen gadget and cleaning it is just as easy as all of its other features. I have all the best tips for keeping your pride and joy factory clean.
The following instructions will work for all models of instant pot.
There are essentially 3 main parts of the instant pot which require cleaning: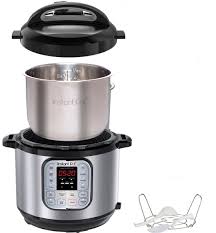 The cooker base and heating element
The cooker base is where the microprocessor and the heating element for cooking are found.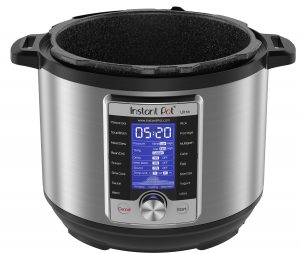 These parts can not be immersed in water and should not be allowed to get wet.
The simplest way to clean is to first unplug the instant pot. Now use a damp cloth to wipe the surface clean (microfibre cloths are great for this). Once clean, polish off with a dry cloth.
The lip around the instant pot can be cleaned using an old toothbrush.
The Stainless Steel Inner Pot & Steam Rack
The inner pot and the steam rack are made of, food-grade stainless steel and are both completely dishwasher safe. General hand washing using hot water and washing up liquid will also work well.
For minor staining and discolouring, I use white vinegar.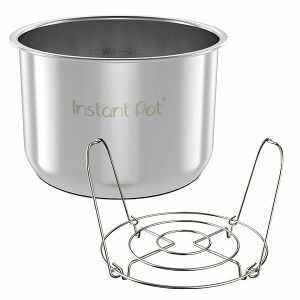 Either leave to soak for around 5 minutes before rinsing or use a cloth and some good old-fashioned elbow grease.
For burnt-on or more difficult stains, I would soak with warm water and washing up liquid and then use Bar Keepers Friend to remove any remaining stains.
I do not recommend using wire wool as this can scratch the surface of the pot.
The lid
The lid is the area most people struggle with - especially with smells trapped in the sealing ring, but don't worry I have the answer!
After most cooking, I just rinse the lid with hot water and dry. If any of the food you've been making touches the lid, I would recommend placing the whole lid in the dishwasher (all components of the lid are dishwasher safe). Remove the anti-block shield first and refit following cleaning.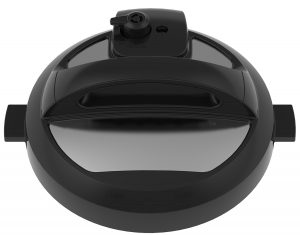 When the sealing ring starts to smell it is better to remove it and place it in the dishwasher separately. I try not to do this too often as I don't want the ring to stretch or tear. This method will generally remove most of the smell from the sealing ring.
If washing the sealing ring separately in the dishwasher still leaves some odour, I add around 400ml (2 cups of white vinegar and a roughly chopped lemon to the instant pot, before setting on high pressure for 2 minutes. Allow the pressure to release naturally and then air dry the ring overnight.
If the ring has any odour remaining after this, soak it in white vinegar overnight, rinse and dry before putting back in place.
Top tip - I would strongly recommend having at least 2 sealing rings and then you can use one for main courses or more strongly spiced meals and another one for desserts etc.
For instant pot's own video on cleaning please see below:
Conclusion
There really is no need to feel daunted by any of the features or of cleaning your instant pot. I'm sure you will agree that cleaning the instant pot is very simple.
For my article on how to use the instant pot, please click here.
if you are interested in further information about the instant pot, please click here.
I hope you have enjoyed my article about instant pot cleaning instructions and please feel free to comment or leave your own tips below.