Hi, I'm Andy, a 52-year-old father of 5 living in Halifax, United Kingdom.
For the last 40 or so years, I have enjoyed cooking for myself and my family. Although my instant pot cooking is not always appreciated (especially by my children), I persevere and love to try new things and generally try to keep my food on the healthy side.
I've been using the instant pot for more than 2 years now since my mother bought me one for an unwanted Christmas present (I hope she's not reading this!). It turned into the most used cooking gadget I've ever had and it has become an indispensable part of our family life (thanks Mum).
So I decided to create this site as there didn't seem to be anything else just dedicated to the instant pot. I want to share with you my honest reviews of my favourite recipes, new recipes, reviews of the different instant pots and also how-to/instructional guides. My other aim is for the site to be independent and totally honest - if I don't like it or it's gone wrong, then I will let you know.
My main focus will be on recipes, as creating and tweaking recipes is what I enjoy the most. I find that the majority of recipes seen on the internet are for 2 to 4 people and even then they are not big portions. Most of my recipes will be for 6 people and will be generous. I would suggest making them as they are listed - if there's any left, most instant pot food is great the next day or can be frozen for use when convenient (I often take my leftovers to work for a quick and nutritious microwave meal).
So many people seem to buy the instant pot and then never use it to its full potential or not at all. Too many people have outdated views - often based on early memories of stove top pressure cookers hissing away at home (my own first memory is of our own pressure cooker exploding and embedding the valve in our kitchen ceiling!). The instant pot has lots of inbuilt safety built-in and I hope to show you how safe and easy to use it is.
As I live in England all units used on the website will be metric, however there will be imperial conversions for those who need them.
As well as the five children, I have a German Shepherd dog, 3 cats and 2 chickens. When I'm not cooking, I love to ride my Harley Davidson motorcycle.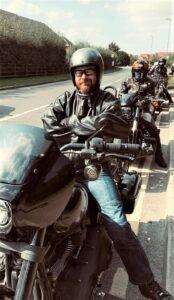 If you ever need a hand or have any questions, feel free to leave them below and I will be more than happy to help you out. I hope you enjoy andysinstantpot as much as I have making it.
All the best,
Andy