My instant pot flapjack is a perfect copy of the bakery classic. Packed with oats and full of flavour. Cooked using the instant pot crisp.
Although flapjack is mostly a British recipe, I believe our American cousins would call it a granola bar. Either way, I'm sure you will enjoy my recipe.
As well as being packed full of fibre-rich oats, let's not forget the main ingredients that give flapjacks their delicious and chewy appeal: these are - golden syrup, butter and sugar. They can be made a little healthier by substituting maple syrup or honey for the golden syrup and by using brown sugar instead of white. It is even possible to use peanut butter instead of the syrup or even to replace some of it. This will give the finished flapjacks a nice peanut hit and add extra protein into the bargain - win, win!
There are many variations possible with flapjacks. You can add raisins, chopped almonds or even chocolate chips. Maybe you could try adding some desiccated coconut, or perhaps almonds, walnuts, even ginger. Often they are seen coated in chocolate in bakeries and this is easily replicated by using melted chocolate yourself. Seeds such as pumpkin and linseeds also will make a good addition to your flapjacks. Many recipes will use margarine instead of butter, but as most margarine's are not especially healthy, I prefer butter. Butter also adds an extra layer of flavour and is much better when heated than margarine.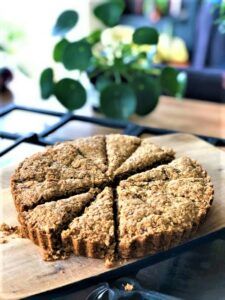 In actual fact, flapjacks never seem to go out of fashion and this is with good reason. Practically anyone can make them (they are so simple that apart from taking them out of the pot, I let my children make them) and their compact texture means they're easy to transport. Flapjacks are perfect for picnics or lunchtime treats for this very reason.
You may be wondering why you can't just make them in the oven and the simple answer is you can! The main benefit of using the instant pot crisp is that you don't have to wait for it to warm up for ages like a conventional oven, it won't heat your house up as much on a hot summers day and it uses significantly less energy. It is also much quicker than the oven (most recipes will need around 30 minutes in a pre-heated oven).
Are flapjacks healthy?
Flapjacks do have some health benefits and these are mostly associated with the oats which contain some good fibre, zinc, iron and vitamin B. They are also known to reduce cholesterol.
Unfortunately, as with most cakes and sweet treats, they will never be truly healthy, mostly due to the large amount of sugars.
Personally, as an occasional treat, I think they are much healthier than the average, cake, biscuit or bun.
A mini-history of flapjack
Flapjacks are believed to have been first named in the 17th century. There is some debate as to whether they originated in England or the Middle East, but they are documented in Shakespeares 1607 Jacobean play Pericles, Prince of Tyre. They are certainly very popular in England, with most popular bakeries selling some form of flapjack.
Method
Add the butter, sugar and syrup to the oats and mix together.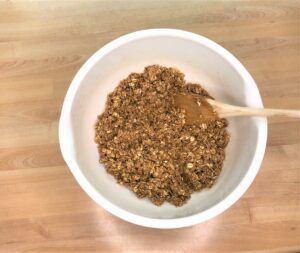 Now press the mixture evenly into a 20cm (8inch) cake tin.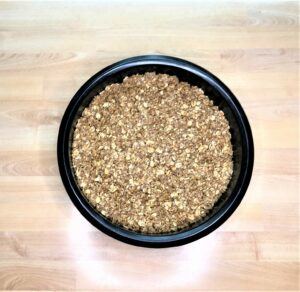 Place the tin on a trivet and lower into the instant pot.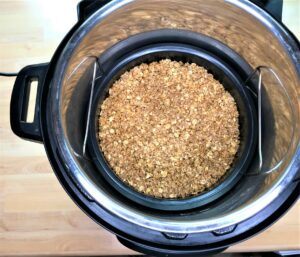 Put the air fryer lid on and set to bake at 185c (365f) for 12 minutes.
Remove the lid followed by the cake tin (using heatproof gloves or an oven glove) and place on a cooling rack.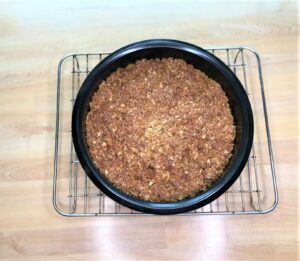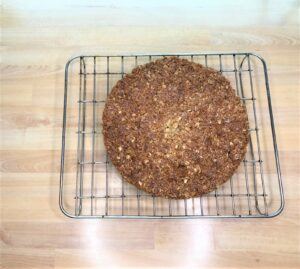 Leave to cool for around 1 hour and then transfer to a plate.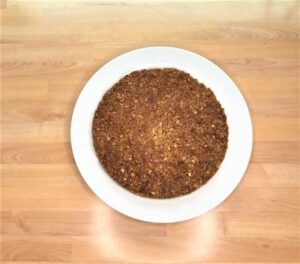 Using a sharp knife, cut into 8 pieces.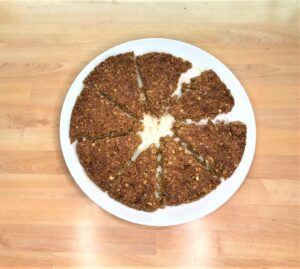 Serve and enjoy!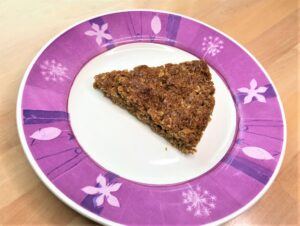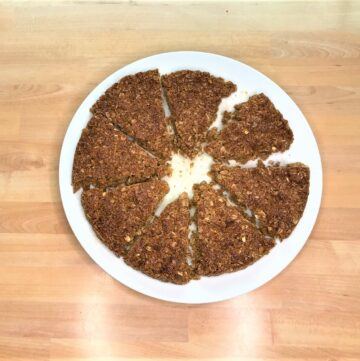 Instant pot flapjack
My instant pot flapjack is a perfect copy of the bakery classic. Packed with oats and full of flavour. Cooked using the instant pot crisp.
Print
Pin
Rate
Ingredients
250

g

Rolled oats

125

g

Butter

I used salted, but if using unsalted, add a pinch of salt.

100

`g

Brown sugar

3

tbsp

Golden syrup

Honey or maple syrup would also work.
Instructions
Butter a 20cm (8inch) cake tin.

Melt the butter, sugar and syrup in a pan.

Put the oats in a bowl and add the melted butter mixture. Combine together and then add to the cake tin. Press down well into the tin until it's flat.

Put the low trivet into the instant pot with the cake tin on top.

Put the air fryer lid on and set to bake for 12 minutes at 185c (365f).

Remove the lid and the cake tin. Place on a cooling rack. Leave to cool for around 1 hour and then cut into triangles.
Video
Nutrition
Calories:
304
kcal
|
Carbohydrates:
40
g
|
Protein:
4
g
|
Fat:
15
g
|
Saturated Fat:
8
g
|
Cholesterol:
34
mg
|
Sodium:
117
mg
|
Potassium:
130
mg
|
Fiber:
3
g
|
Sugar:
19
g
|
Vitamin A:
390
IU
|
Calcium:
30
mg
|
Iron:
1
mg
I used the 8l (8qt) instant pot which is currently the only crisp available in the UK, but if you have the smaller 6l(6qt) then the recipe will still work. Just use an 18cm (7inch) tin to make it fit.
My instant pot flapjack will turn out crunchy on the outside, but perfectly chewy in the middle. Just the way a flapjack should be in my opinion. If you prefer your flapjacks less crunchy, just add 1tbsp of self-raising flour with the oats.
As most oats should be gluten-free, flapjacks are the perfect snack if you suffer from gluten intolerance.
My flapjacks can be made vegan by using dairy-free margarine, but in my opinion, they do not taste quite as good.
For anyone who's interested, click here for some more information about flapjacks.
If you enjoyed my instant pot flapjack recipe, why not try my banana bread recipe which is also for the crisp: https://andysinstantpot.com/instant-pot-banana-bread/
I don't own the new instant pot vortex yet, but I'm sure this recipe will work equally well for the vortex. You will also be able to use a more traditional square or rectangular tin in the vortex.
Please feel free to leave any comments, questions or suggestions using the form below.