My quick easy instant pot spaghetti is one of the simplest recipes you will ever make. It's full of taste and sure to become one of your household go-to meals.
This is probably the easiest recipe I have ever made in the instant pot. Dump and go at its best and yet with amazing taste!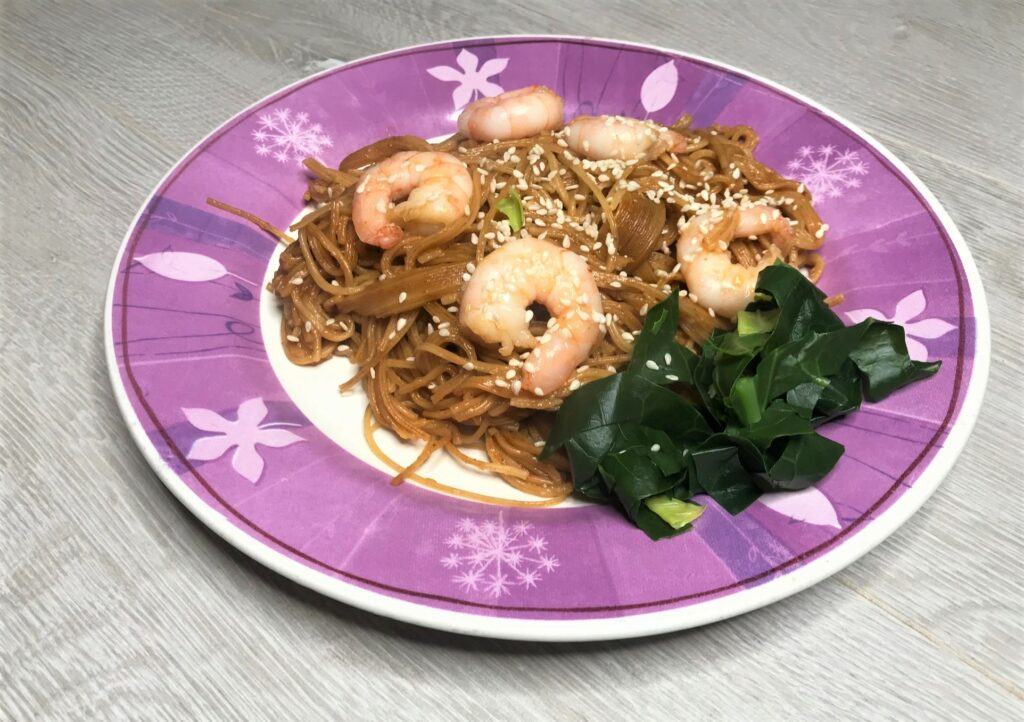 How to make quick easy instant pot spaghetti
You won't believe how easy it is - just chop up the garlic and add to the instant pot along with the oyster sauce, sesame oil, brown sugar, soy sauce, stock and water. Whisk it all together and then layer the spaghetti on top (this is easier to do if you break the spaghetti in half first). Push the spaghetti down into the liquid. Put the lid on the pot and set on high pressure for 4 minutes. When the time is up, leave under pressure for a further 4 minutes and then do a quick release. When the pin drops remove the lid. Don't worry if there is still some liquid remaining as this will soon be absorbed into the spaghetti. If any spaghetti is stuck together, just tease it apart using a fork. Either serve straight away or if you're using cooked prawns, add these now and put the lid on loosely until they have warmed through (about 2 minutes) and then serve.
What are the ingredients for easy instant pot spaghetti?
This is a simple list of mostly store cupboard staples:
Garlic
Oyster sauce
Sesame oil
Brown sugar
Soy sauce
Chicken stock (vegetable stock or even water would both be fine)
Chili paste (I used chipotle)
Spaghetti
Yet more proof that this really is one of the simplest and best meals you can make in the instant pot.
What to serve with easy instant pot spaghetti?
In the picture above I served this recipe with cooked prawns which I added after removing the lid following pressure cooking. I also served mine with a garnish of sesame seeds and some steamed green cabbage. Any leafy green vegetable would make a good side serving or even a salad. Spring (green onions) also make a good garnish for this recipe.
Is easy instant pot spaghetti healthy?
My instant pot spaghetti recipe has mainly healthy ingredients and only a small amount of added sugar. If you are worried about too much sodium in your diet, I would recommend using low sodium soy sauce. The brown sugar could also be changed to honey to make the recipe even healthier.
Are there any substitutions I can do if I don't have all the ingredients?
The simple answer is yes. This is a super flexible recipe.
If you think there is too much garlic, just put less in (we love garlic and find even with 9 cloves it is not overpowering).
No oyster sauce? No problem - just leave it out or use fish sauce.
Brown sugar can be swapped for honey.
Light or dark soy sauce will both work well.
Chicken stock is not necessary. You can use either vegetable stock or just water.
I used chipotle chili paste, but any hot sauce will work well (I have used Frank's and sriracha successfully before). The recipe is not too spicy, but you can vary the quantities of hot sauce to change the spice levels to suit your tastes.
If you have no spaghetti, linguine or even pasta shapes will also substitute well.
You can use cooked or uncooked prawns (shrimp). If using uncooked, just add them add the same time as the spaghetti instead of after doing the quick release.
As you can see, this really is one of the most flexible recipe's possible.
Is it possible to scale this recipe up or down?
Absolutely, it would be fine to half the recipe in any of the instant pots. You could double the recipe with any of the pots 6l (6qt) and above. In either case, all timings would remain the same.
Is quick easy instant pot spaghetti vegetarian?
If you follow the recipe, it is pescatarian, however by omitting the oyster sauce and not serving with prawns (shrimp), the recipe can easily become vegetarian. It is still very tasty with these omissions.
Quick easy instant pot spaghetti
Delicious, quick easy spaghetti in a garlic sauce
Print
Pin
Rate
Ingredients
9

Cloves

Garlic

Finely chopped

2

tbsp

Oyster sauce

Omit and replace with soy sauce if vegetarian.

1

tbsp

Sesame oil

50

g

Brown sugar

60

ml

Soy sauce

Low sodium would be best

400

ml

Chicken stock

vegetable stock would be fine.

400

ml

Hot water

1

tbsp

Chili paste (I used chipotle)

Hot sauce such as Frank's would be OK.

500

g

Spaghetti
Instructions
Add the finely chopped garlic, oyster sauce, sesame oil, brown sugar, soy sauce, stock and water to the instant pot. Whisk together.

Break the spaghetti in half and spread out in layers (see video). Push down carefully into the liquid.

Set the instant pot on high pressure for 4 minutes. Allow to remain under pressure for 4 more minutes and then perform a quick release.

Separate the spaghetti whilst the sauce thickens.
Video
Nutrition
Calories:
404
kcal
|
Carbohydrates:
76
g
|
Protein:
14
g
|
Fat:
4
g
|
Saturated Fat:
1
g
|
Cholesterol:
2
mg
|
Sodium:
830
mg
|
Potassium:
316
mg
|
Fiber:
3
g
|
Sugar:
12
g
|
Vitamin C:
2
mg
|
Calcium:
40
mg
|
Iron:
2
mg
This is such a simple recipe and my family request it time and time again.
I made mine using an 8l (8qt) instant pot and I have also made it in the 6l (6qt) pot. I haven't made it in the 3l (3qt) pot, but I'm sure it would work just as well with the same timings.
If you are lucky enough to have any leftovers, they will keep well for up to 5 days in the fridge provided they are heated up correctly. You can also freeze them successfully for up to 6 months.
I hope you have enjoyed my recipe for quick easy instant pot spaghetti and would recommend some of my other pasta and seafood recipes:
If you have any comments, questions or suggestions, please leave them in the box below and I would be delighted to help.