Who doesn't love mac n cheese? It's one of my all-time favourites and a great comfort food. My super simple bung and go instant pot macaroni and cheese is delicious and ready in around 25 minutes. Perfect for a weeknight dinner or for busy weekends.
We have one variation of this super versatile recipe nearly every week. I have been making and tweaking this recipe for more than 3 years now as it was one of the first things I made in the instant pot. I think I've got this one as good as it gets and I hope you will enjoy it as much as my family.
It's all ready, start to finish in around 25 minutes. All the ingredients should be store cupboard staples and so it really is the perfect meal when you're in a hurry. Only one pot to clean as well, saving you even more time.
It will be a little bit dryer than some recipes which is the way I like it, but you could always add more liquid, or reduce the cooking time a little to stop the cheese sauce soaking into the pasta.
I made this recipe in the instant pot duo 6-quart, but more recently I've made it in the 8-quart instant pot crisp and it worked out just as perfect.
The recipe made just the perfect amount for my family of 2 adults and 4 children (they all have big appetites!) and there was a small portion left over for my lunch the next day - bonus!
The recipe can be made vegetarian by substituting vegetable stock for the chicken stock and it can also be made gluten-free by using gluten-free pasta (cooking time should be the same).
Macaroni cheese is traditionally made on the stove top, but I prefer to use the instant pot as it gives a better flavour and its quicker with less clean up as well. It leaves the oven and stovetop free to do other things, uses less energy and on a hot day, it doesn't heat the kitchen up as much as the oven. Win-win!
How to make instant pot macaroni and cheese (tips and hints)
I always use chicken stock for the best flavour, but the dish can be made vegetarian by using vegetable stock or even water.
I like to use a variety of cheese in order to give a better taste. I usually use a mixture of mature cheddar and Red Leicester, followed by parmesan and cream cheese to give a perfect smooth finish. Be sure to continuously stir the cheese until it melts into the macaroni without any clumps forming.
I used semi-skimmed milk (2%), but whole or semi-skimmed would both work well depending on your personal preferences.
It is important to use seasoning even though there is salt in the butter and cheese. I don't add extra salt, but pepper, smoked paprika, garlic, mustard and Worcester sauce make a perfect flavour combination
What to serve with instant pot macaroni and cheese
Macaroni cheese is never going to be the greatest diet food, but you can make it healthier by serving with a side salad or a serving of your favourite green vegetables (you may have noticed that mine is broccoli as I serve it with nearly everything!).
Some good crusty bread will also make a great addition on the side and its perfect for sweeping up the leftover juices.
You can also use macaroni and cheese as a side serving for meals like instant pot KFC.
What to do with leftovers
We don't often get left overs as my family loves this recipe so much, but leftovers can be either frozen (up to around 6 months) or kept in the fridge and reheated (up to around 3 days). If reheated the results will be a little dry as the macaroni continues to suck up any liquid. I usually add a splash of milk and stir in as the macoroni gets warm (either on the hob or in the microwave). The flavours will be intensified, but this is not a dish which improves with age in my opinion like, stew or most curries.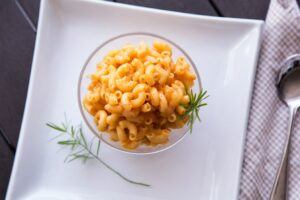 The History Of Macaroni
The word macaroni was traced by the international pasta organisation to the ancient Greeks who established a colony in Naples between 2000 and 1000BC. They enjoyed a dish called macaria which was possibly named after a Greek goddess.
There are many different claims as to the origin of macaroni and cheese, but the earliest I could find was in Liber de Coquina, a cookbook written by an anonymous Neopolitan in the early 14th century. More than 500 years later Mrs Beeton wrote a recipe which is very similar to today's in her famous cookbook  Mrs Beeton's Book of Household Management. Mrs Beeton claimed that her macaroni was a favourite food of Italians where Neapolitans claim it as the "staff of life". This theory was backed up by the French gourmand, Alexandre Dumas who said macaroni cheese came from Naples in his book Grand Dictionaire de Cuisine. Oddly enough Dumas hated it, describing it as "long pipes of pity". More recently the American company Kraft invented the boxed version of macaroni cheese in 1937 during the great depression and this helped to make it popular throughout the world.
The actual shape of macaroni pasta is credited to Maestro Martino who resided in the Italian speaking part of Switzerland. In his revolutionary cookbook Libro de Arte Coquinaria  (if you want to read it I hope your Italian's good!) which was published in the 1400's he included several macaroni dishes which included instructions on how to make hollow tube pasta by wrapping the pasta dough around a stick.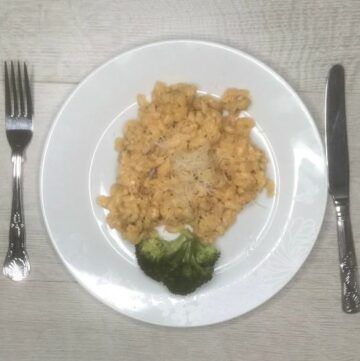 Instant pot macaroni and cheese
In my opinion the best and most adaptable instant pot macaroni and cheese recipe.
Print
Pin
Rate
Ingredients
2

tbsp

Butter

Salted or not depending on your preference. I use salted.

750

ml

Chicken stock

Vegetable stock can be used to make the meal vegetarian.

650

g

Macaroni

Whole wheat can be used - just add 1 minute to cooking time.

500

ml

Milk

I use semi-skimmed (2%), but skimmed would be ok.

1

tsp

Smoked paprika

2

tsp

Mustard

Any mustard should be good.

1

Clove

Garlic

Crushed. Garlic salt would be ok if you don't have fresh.

1

tbsp

Hot sauce

I use Frank's. Optional

Pepper to taste

Optional

300

g

Cheese

I used grated mature cheddar or red Leicester.

40

g

Parmesan

Grated.

230

g

Cream cheese

I use full fat, but half fat would work.
Instructions
Add the butter, chicken stock, macaroni, milk, smoked paprika, mustard, garlic, hot sauce and pepper to the instant pot and mix thoroughly.

Set the instant pot to 4 minutes on high pressure. Leave under pressure for another 4 minutes and then perform a quick release (if you quick release earlier it can tend to splatter).

Remove the lid and add the grated cheddar and parmesan followed by the cream cheese. Stir in well and leave to melt for a couple of minutes. Serve and enjoy.
Video
Nutrition
Calories:
893
kcal
|
Carbohydrates:
92
g
|
Protein:
37
g
|
Fat:
41
g
|
Saturated Fat:
24
g
|
Cholesterol:
121
mg
|
Sodium:
872
mg
|
Potassium:
598
mg
|
Fiber:
4
g
|
Sugar:
11
g
|
Vitamin A:
1485
IU
|
Vitamin C:
2
mg
|
Calcium:
598
mg
|
Iron:
2
mg
If you find the pasta is undercooked, just pop the lid back on and leave for a couple more minutes.
This is a really easy bung and go recipe and it is also really easy to adapt to fit different diets.
To make sure the recipe is vegetarian make sure you use vegetarian parmesan or replace with another cheese.
Sometimes I like to add crispy bacon with the macaroni and other times we add broccoli, cauliflower, sweet corn and even canned tuna. Cherry tomatoes and asparagus also go well at the first stage.
As you can see, my instant pot macaroni cheese is super simple and super versatile. We have some variation of it practically every week and I hope you enjoy it as much as my family.
To view the recipe on Pinterest please click here.
I hope you will really enjoy my instant pot macaroni and cheese as much as we did. For some other similar instant pot recipes, please try:
For some interesting history about macaroni and cheese, please click here.
If you have any questions, comments or suggestions about my instant pot macaroni and cheese, please leave them in the box below and I would be delighted to help.