My instant pot chicken gyros are so good, you will want to make them all the time. Finished with a perfect tzatziki sauce.
A perfect and speedy meal that will transport you to a slice of greek heaven!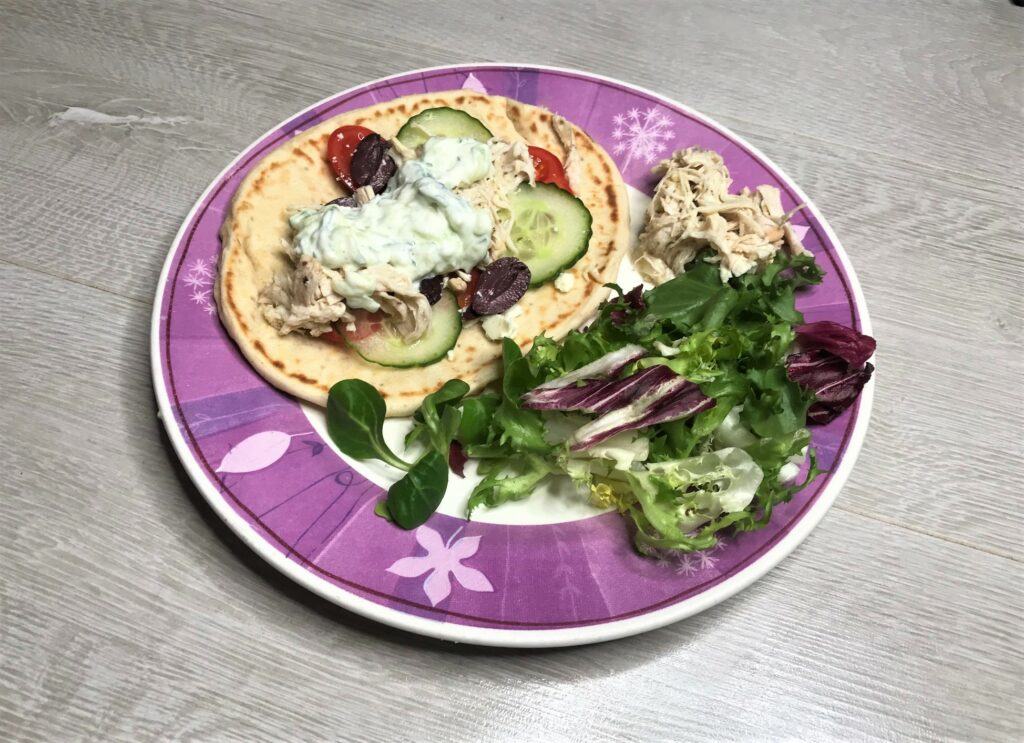 The sauce and chicken filling are both dump and go to make this a really easy recipe to make.
How to make instant pot chicken gyros
My instant pot chicken gyros are really simple to make. The sauce and filling can be made in advance to make them even easier still.
First, make the tzatziki sauce. It is important to make the tzatziki sauce in advance as the taste improves with time. At least 1 hour is good, but it will keep for up to 3 days. Simply combine Greek yoghurt, cucumber, garlic powder, lemon juice and season to taste. Cover and refrigerate until needed.
Now put the oregano, olive oil, chopped onion, garlic and lemon (juice and zest) into the instant pot. Season to taste and then add the chicken stock, apple cider vinegar and chicken thighs. Mix together and put the lid on. Set on high pressure for 25 minutes and then leave under pressure for another 15 minutes (you could leave it longer if the timings suit you better).
Do a quick release if necessary and when the pin drops, remove the lid. Drain off most of the liquid and then shred the chicken using 2 forks.
Now its time to build your gyros with whichever filling you prefer topped with the chicken and then the perfect tzatziki sauce.
We ate 2 each and found this to be plenty as a really satisfying and tasty meal.
What are the ingredients in instant pot gyros?
All the ingredients are easy to find and should be readily available without having to visit a speciality store.
For the tzatziki sauce:
Greek yoghurt (I used whole fat).
Cucumber.
Garlic powder.
Lemon juice.
Salt and pepper.
For the chicken filling:
Oregano.
Olive oil.
Onion.
Garlic.
Lemon (juice and zest).
Salt and pepper.
Chicken stock.
Apple cider vinegar.
Chicken thighs (Chicken breast is also good).
And lastly to build the gyro:
Whole pitta bread.
Lettuce.
Tomatoes.
Olives (I used kalamata, but most olives will be fine).
Feta cheese.
Cucumber.
Although it sounds a little complicated, once you have made one gyro you will soon get the idea. I just put all the ingredients on the table and let everyone build their own to there own personal preference.
Are there any substitutions I can make if I don't have all the ingredients?
If you don't have all the ingredients or don't like some of them it is very easy to make changes to my gyros.
I used full-fat Greek yoghurt, but you could use low fat or just natural plain yoghurt.
Garlic powder could be replaced with fresh garlic for the sauce and vice/versa for the filling.
Use either fresh lemon juice or bottled. I have also used lime juice which worked well.
Chicken stock could be substituted with vegetable stock.
Instead of apple cider vinegar, you could use white or red wine vinegar instead.
Chicken thighs are best, but chicken breast is also really good. Other meats such as lamb can also be used. I haven't tried this, but the timings will be similar.
For the gyro ingredients, these are what I like, but if you don't like them then don't add them or use something you do like.
As you can see the recipe is fairly flexible and so you should easily be able to make my chicken gyros.
What to serve with instant pot chicken gyros?
I served mine with a big green salad, but you could try serving with a leafy green vegetable instead.
Are instant pot chicken gyros healthy?
With all-natural ingredients and no processed sugars, my gyros are full of nutritious ingredients. Perfect as part of a balanced diet.
Are chicken gyros keto-friendly?
If you serve the chicken filling without the pitta bread the gyros are keto-friendly. In this case I would suggest serving with a big helping of Greek salad.
CAN THE RECIPE BE SCALED UP OR DOWN?
Absolutely. You could easily double the recipe in all pots 6l (6qt) and above and the recipe would half well in all size pots. In either case, all timings should remain exactly the same.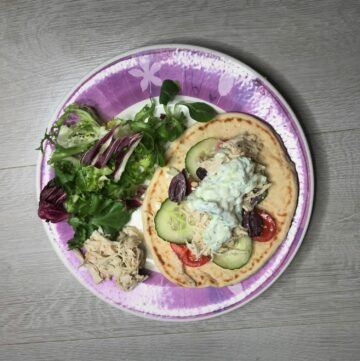 Ingredients
Tzatziki Sauce
250

ml

Greek yoghurt

1

Whole

Cucumber

Finely diced or grated.

½

tsp

Garlic powder

1

tbsp

Lemon juice

Season to taste
Chicken filling
1

tbsp

Oregano

2

tbsp

Olive oil

1

Large

Onion (roughly chopped)

6

Cloves

Garlic (roughly chopped)

1

Whole

Lemon (juice and zest)

Season to taste

125

ml

Chicken stock

50

ml

Apple cider vinegar

908

g

Chicken thigh

Chicken breast would also be good.
Gyro
12

Pitta (pita) breads

1

Lettuce (finely sliced)

I used flat leaf (bibb lettuce)

150

g

Tomatoes (finely sliced)

150

g

Olives

150

g

Feta cheese

½

Cucumber (finely sliced)
Instructions
First,make up the tzatziki sauce by mixing all the ingredients in a small bowl. Cover and keep refrigerated.

Now add all the chicken filling ingredients to the pot and mix together. Put the lid on the pot and set on high pressure for 25 minutes.

When the time is up, leave it under pressure for a further 15 minutes and then do a quick release if necessary.

Remove the lid and drain off most of the liquid. Shred the chicken using 2 forks.

Now build the gyro with whichever ingredients you prefer topped with the tzatziki sauce.
Video
Nutrition
Calories:
836
kcal
|
Carbohydrates:
73
g
|
Protein:
45
g
|
Fat:
43
g
|
Saturated Fat:
12
g
|
Trans Fat:
1
g
|
Cholesterol:
173
mg
|
Sodium:
1332
mg
|
Potassium:
836
mg
|
Fiber:
11
g
|
Sugar:
6
g
|
Vitamin A:
1465
IU
|
Vitamin C:
9
mg
|
Calcium:
253
mg
|
Iron:
6
mg
I used chicken breast in the video above as my local store didn't have any thighs and it was perfect, but personally, I prefer thigh as it has more taste.
Leftover tzatziki sauce and chicken filling will keep for around 3 days in the fridge. The chicken filling will freeze well for up to 6 months, however the sauce is best eaten whilst fresh (you don't have to eat it with gyros - it makes a great accompaniment to lots of meals including most curries).
The liquid which was drained off the chicken filling made a really tasty soup the next day which was a nice bonus.
Traditionally, dill would be one of the ingredients for the Tzatziki sauce, however as nobody in my family likes the taste, I just leave it out.
If you have enjoyed my recipe for instant pot Greek gyros, please take a look at some of my other Mediterranean inspired recipes:
If you have any comments, questions or suggestions, please leave them in the box below and I would be delighted to help.