Welcome to my recipe for instant pot chicken tagine. Bursting with Moroccan flavours and really easy to make.
There's no need to buy a tagine when you can make this authentic Morrocan classic in your instant pot and all in a fraction of the time it traditionally takes.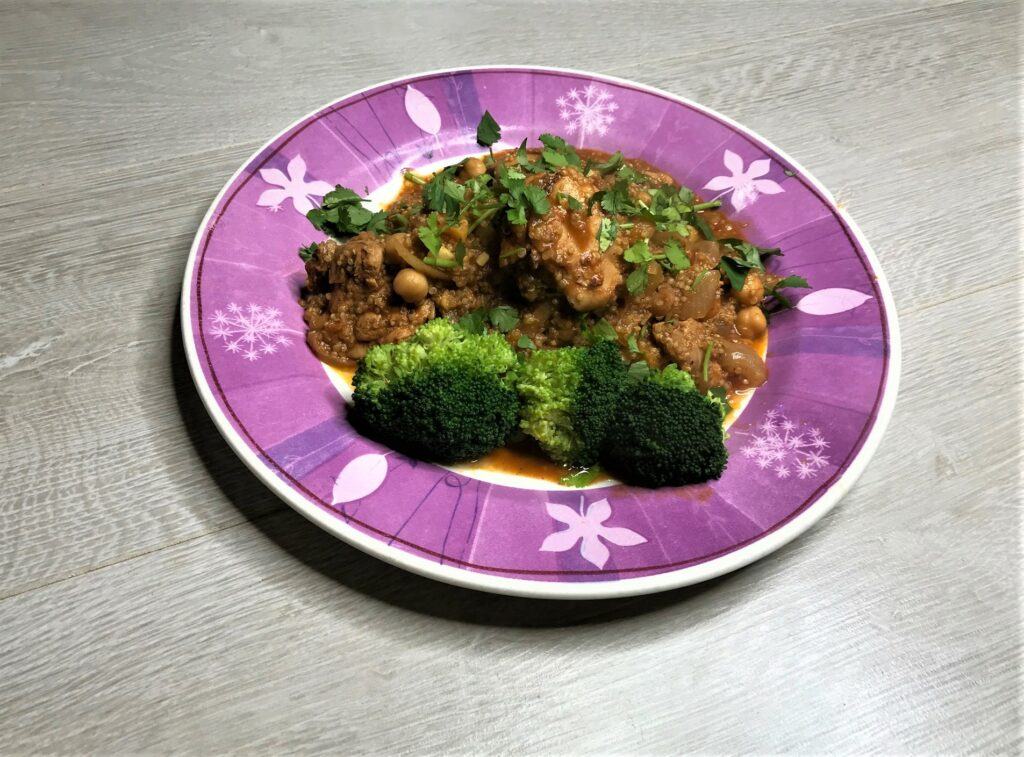 Chicken tagine is a perfect easy one-pot meal that will soon become a family regular.
How to make instant pot chicken tagine
My Moroccan chicken is super easy to make and budget-friendly as well.
First, you need to mix all the spices together in a bowl. The smell of all those gorgeous spices will be amazing! Now add the chicken and rub the spice mixture in well (you can do this up to 24 hours in advance which makes this a great recipe when you're in a hurry or for meal prep).
Now set your pot to saute and add the olive oil. When the oil is hot add the onions and fry until they are softened (this should take around 3 minutes). Add the garlic and chili and fry for around another minute.
Next, its time to add the chicken. Fry until it is roughly browned and then add all the other ingredients except the tomatoes. Stir everything well together and then add the tomatoes, but do not stir to avoid the dreaded burn notice.
Put the lid on the instant pot and seal. Set it on high pressure for 8 minutes and when the time is up leave it under pressure for another 4 minutes before doing a quick release.
When the pin drops stir everything together and serve straight away with a garnish of coriander (cilantro).
As you can see this really is one of the simplest and quickest one-pot meals you will ever make.
What are the ingredients for instant pot Moroccan chicken?
As usual with my recipes, the ingredient's should be readily available with most of the spices being store cupboard staples.
Chicken thighs (Skinless and boneless). Chicken breast will also be good.
Paprika
Cinnamon
Ground ginger
Ground cumin
Turmeric
Salt and pepper
Olive oil
Onion
Garlic
Chili
Chicken stock
Chickpeas (I used tinned)
Quinoa
Dried apricots
Tinned tomatoes
Coriander (cilantro) to garnish
Although its a fairly long list, everything should be available at any good supermarket and you will probably have most of the ingredients at home already.
What to serve with the Moroccan tagine?
I served mine with a garnish of coriander (cilantro) with a side serving of broccoli. You could use any leafy green vegetable or maybe even a nice Mediterranean salad. Traditionally toasted almonds would also be sprinkled on the dish.
What substitutions are possible if I don't have all the ingredients?
My instant pot chicken tagine is fairly flexible with some suggested substitutions below:
Chicken thighs could be replaced by chicken breast. Often tagine is made with lamb and this would also be really good. In either case, leave the timings the same, but with lamb, brown for a few minutes longer.
If you don't have all of the spices or don't like the taste of some of them, it would be OK to leave them out or replace with something you prefer.
Fresh garlic and chili could be replaced by powdered. The chili I used was fairly mild to make the recipe family-friendly, but you could use whatever heat you prefer.
Chicken stock could be replaced with vegetable stock.
If you are not a fan of quinoa, just leave it out and serve with couscous or rice instead. You would have to cook these separately.
I hope these suggestions are helpful and I'm sure you could come up with some other variations of your own.
Is instant pot tagine healthy?
This is one of the healthiest recipes I make. It's bursting with Mediterranean goodness and the quinoa is the superfood of all grains. As quinoa has a higher protein content than rice or couscous, it will also keep you full for longer which is a great bonus.
The recipe is low in saturated fat and also fairly low in sodium. Easy, quick, delicious and healthy - what's not to like!
Can this recipe be made vegetarian/vegan?
By leaving out the chicken and using vegetable stock instead of chicken, this meal can easily be made vegetarian and vegan. Just substitute veg such as potatoes, sweet potatoes and carrots for the chicken and use more chickpeas. Leave the timings the same to allow the quinoa to cook properly.
It will make a great addition to a vegetarian/vegan diet as the quinoa contains all the amino acids necessary to make a complete protein (the only grain to do this).
Is it possible to scale the recipe up or down?
The recipe will fit in well to all instant pot sizes as it is, and will also half well for all pots especially the 3l (3qt). You could double the recipe in the 8l (8qt) and 10l (10qt), but it would be a squeeze in the 6l (6qt). Whichever you do, all timings would remain the same.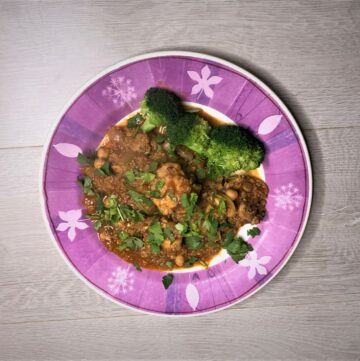 Instant pot chicken tagine
A really easy one-pot meal that's ready to eat in 30 minutes.
Print
Pin
Rate
Ingredients
908

g

Chicken thighs

Boneless and skinless

2

tsp

Paprika

2

tsp

Cinnamon

2

tsp

Ground ginger

Fresh would be ok

2

tsp

Ground cumin

1

tsp

Turmeric

Season to taste

3

tbsp

Olive oil

2

Onions

4

Cloves

Garlic

Crushed

1

Whole

Chili (roughly chopped)

800

ml

Chicken stock

400

g

Chickpeas

Drained

400

g

Quinoa

125

g

Dried apricots

Chopped

400

g

Tomatoes

Tinned

Coriander (cilantro)

Fresh to serve (optional)
Instructions
In a large bowl add the paprika, cinnamon, ground ginger, ground cumin, turmeric, and salt/pepper to the chicken and rub in well (this can be done in advance - just cover with cling film and leave in the fridge).

Set the instant pot to saute and add the olive oil. When the oil is hot fry the onions until softened (around 3 minutes). Add the garlic and chili. Fry for 1 more minute.

Add the chicken and cook until roughly browned.

Now add all the other ingredients except the tomatoes. Stir well and then add the tomatoes but DO NOT STIR. Put the lid on the instant pot. Set on high pressure for 8 minutes. Allow to rest under pressure for 4 more minutes and then perform a quick release.

Serve straight away and garnish with the coriander (cilantro) if required.
Video
Nutrition
Calories:
737
kcal
|
Carbohydrates:
88
g
|
Protein:
50
g
|
Fat:
21
g
|
Saturated Fat:
4
g
|
Cholesterol:
148
mg
|
Sodium:
344
mg
|
Potassium:
1589
mg
|
Fiber:
14
g
|
Sugar:
20
g
|
Vitamin A:
1442
IU
|
Vitamin C:
16
mg
|
Calcium:
136
mg
|
Iron:
9
mg
This recipe gave 6 portions and there was enough leftover for me to have it warmed up the next day. Leftovers will keep for up to 4 days in the fridge and will freeze well for around 6 months. Moroccan tagine will reheat well provided you store it correctly and heat until it is piping hot (either microwave, stovetop or instant pot).
For some interesting information about the origins of tagine, please click here.
There it is, my super easy recipe for Moroccan tagine. If you have enjoyed my recipe for instant pot chicken tagine, please check out some of my other Meditteranean inspired recipes below:
If you have any comments, questions or suggestions, please leave them in the box below and I would be delighted to help.