Welcome to my instant pot Tuscan chicken recipe. Creamy pasta and succulent chicken that's ready in around 30 minutes.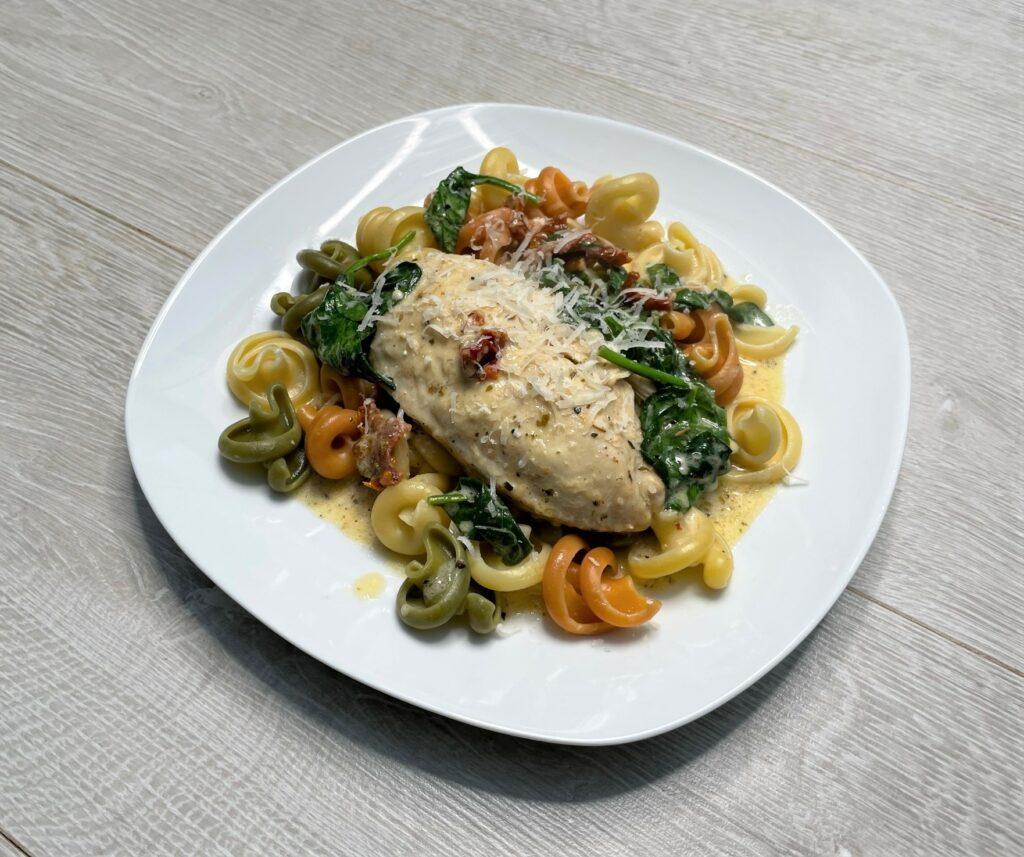 In my opinion this is a restaurant quality meal, but all made in the convenience of your home using the instant pot.
How do I make Instant pot Tuscan chicken?
With just a few simple steps, I promise this will become one of your families go to recipes. perfect for an easy weeknight meal, but good enough to showcase at the weekend.
First you need to set the instant pot to sauté and then add the oil and butter. Once the butter has melted, season the chicken breasts and brown them for around 1 minute on each side.
Next add the garlic, stock, Italian seasoning and cream. Deglaze the pot if necessary and then put the lid on.
Set to high pressure for 5 minutes and when the time is up leave under pressure for a further 5 minutes. Now do a quick release and when the pin drops, remove the lid.
Add the sun-dried tomatoes, parmesan and spinach. Stir in and put the lid back on loosely until the spinach has wilted and the cheese is melted (around 2 minutes).
Remove the lid and stir everything together.
Serve over pasta or rice and enjoy.
Such a simple recipe that requires virtually no cooking skills and yet comes out restaurant quality every time.
What are the ingredients in Tuscan chicken?
This is a nice simple list of easily available ingredients which should mostly be in your store cupboard with the fresh produce all readily available at any good store.
Olive oil.
Butter.
Chicken breast.
Salt and pepper.
Fresh garlic.
Chicken stock.
Italian seasoning.
Double (heavy) cream.
Sundried tomatoes.
Parmesan cheese.
Spinach.
Its hard to believe that such a great tasting meal can be made with such a simple list of ingredients.
ARE THERE ANY SUBSTITUTIONS POSSIBLE IF I DON'T HAVE ALL THE INGREDIENTS?
Some substitutions are possible, although you will change the overall taste if it's changed too much.
Olive oil or butter could be used exclusively instead of mixing together (be careful not to burn if using butter only).
I used salted butter, but unsalted would be fine.
Chicken thighs or even pork could be used instead of chicken breast. If using chicken thighs increase the cooking time and time under pressure to 7 minutes each.
You could use garlic salt or granules in place of fresh garlic.
Chicken stock could be replaced with vegetable stock.
I used a ready made Italian seasoning, but it would be easy to make your own. A standard mixture would be 1 part each of basil, oregano, marjoram, thyme and rosemary - experiment with what you like!
I used double (heavy) cream, but you could use a lighter cream to cut back on the fat.
Any hard cheese would be good instead of parmesan.
All of the above swaps shouldn't affect the overall taste too much.
What should I serve with instant pot Tuscan chicken?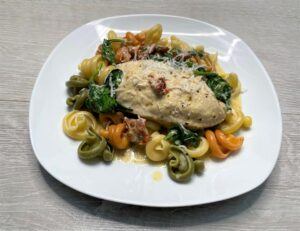 I served mine with a garnish of parmesan and some nice crusty bread to mop up the delicious creamy sauce. Leafy green vegetables or a nice big salad would also go well with the Tuscan chicken.
Is Tuscan chicken a healthy choice?
With a nice combination of all natural ingredients, my instant pot Tuscan chicken recipe is a great choice for any healthy balanced diet.
Is instant pot Tuscan chicken keto friendly?
Provided you don't serve with pasta or rice my Tuscan chicken will make a great keto choice. Cauliflower rice would make a good keto substitution to use instead.
IS IT POSSIBLE TO SCALE THE RECIPE UP OR DOWN?
The recipe will fit in well to all instant pot sizes as it is, and will also half well for all pots especially the 3l (3qt). You could double the recipe in the 6l (6qt), 8l (8qt) and 10l (10qt). Whichever you do, all timings would remain the same.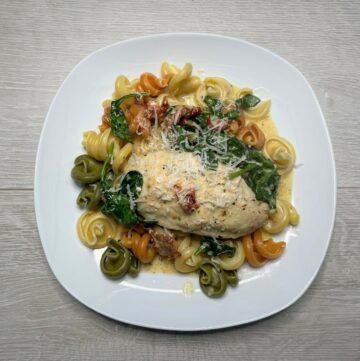 Ingredients
2

tbsp

Olive oil

2

tbsp

Butter

908

g

Chicken breast

Season to taste

6

Cloves

Garlic (minced or finely chopped))

125

ml

Chicken stock

1

tbsp

Italian seasoning

225

ml

Double cream

Heavy cream for the USA.

50

g

Sundried tomatoes (chopped)

100

g

Parmesan (grated)

200

g

Spinach
Instructions
Set the pot to saute and add the olive oil and butter.

When the butter has melted add the chicken breasts and roughly brown on each side (season the chicken on each side whilst cooking). This should take around 2 minutes.

Add the garlic, followed by the stock, Italian seasoning and cream. Deglaze the pot if necessary.

Put the lid on the instant pot and set to high pressure for 5 minutes. When the time is up, leave under pressure for another 5 minutes.

Do a quick release and remove the lid. Add the sun-dried tomatoes, parmesan and spinach. Stir everything together and put the lid back on loosely until the spinach wilts (around 3 minutes).

Remove the lid and stir again.

Serve over rice or pasta and enjoy.
Video
Nutrition
Calories:
485
kcal
|
Carbohydrates:
10
g
|
Protein:
42
g
|
Fat:
31
g
|
Saturated Fat:
15
g
|
Trans Fat:
1
g
|
Cholesterol:
170
mg
|
Sodium:
568
mg
|
Potassium:
1121
mg
|
Fiber:
2
g
|
Sugar:
4
g
|
Vitamin A:
4057
IU
|
Vitamin C:
16
mg
|
Calcium:
292
mg
|
Iron:
3
mg
The nutritional information above does not include any pasta or rice which you serve with the Tuscan chicken.
I used trottole tricolour pasta in the video. Each serving of pasta was 131 calories which then gives a total of 619 calories per serving of Tuscan chicken with pasta.
If you have any leftovers they should keep well in the fridge for around 3 days and up to 6 months in the freezer. I would recommend serving with fresh pasta or rice. I usually heat mine up in a frying pan, but you could use the microwave or even the sauté function in the instant pot. Whichever method you use, make sure the chicken is piping hot before serving.
For some more interesting information about Tuscan cuisine, please follow this link.
If you have enjoyed my instant pot Tuscan chicken recipe, please check out some of my other Italian inspired recipes:
If you have any comments, questions or suggestions, please leave them in the box below and I would be delighted to help.